Privacy Impact Assessment
Protecting privacy is more than just upholding the law, it also involves taking a proactive approach to safeguarding the public's personal and personal health information.
Manitoba Ombudsman has developed a user-friendly privacy impact assessment (PIA) tool that 'tells the story' of a project from a privacy perspective. Simply, it encourages public bodies and/or trustees to think about privacy when evaluating an existing or proposed program/activity.
The full 12-page PIA tool includes the following sections:
Introduction and Acknowledgments
Frequently Asked Questions
Before Getting Started
Privacy Impact Assessment Tool (questionnaire)
Appendices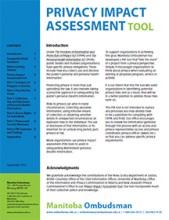 The questionnaire portion of the tool is also available as a fillable pdf form for Adobe Acrobat Pro (Acrobat Pro 9.x or higher required) and Adobe Reader (Reader 9.x or higher required). Many of the text fields are dynamic -- they automatically resize to accommodate the amount of data you enter and can span across pages. Note: If you are unable to open the fillable pdf forms in your browser, please right click on the files, save them to your computer and open them with Adobe Reader or Acrobat.
A Microsoft Word version (97-2003) of the questionnaire portion is also available for editing.
Fillable forms are located under "related files" at the top right of this page.
Available in alternate formats upon request.