Meet the Ombudsman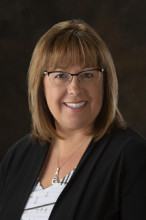 Jill Perron was sworn in as Manitoba's Ombudsman on May 28, 2019. Prior to this appointment, she was the assistant deputy minister in Manitoba Families where she provided executive leadership to the Child and Youth Services Division and served as the director of child and family services and was a board member of the Manitoba Housing Renewal Corporation. Previously, she served as the acting assistant deputy minister of Manitoba Housing and Community Development, where she led the development of policy and strategic initiatives working in collaboration with federal and municipal governments, diverse local communities and their residents.
Jill has over 24 years of experience in public service, eight of which were spent in the Office of the Children's Advocate (now the Manitoba Advocate for Children and Youth) and Manitoba Ombudsman, dedicated to promoting good governance, quality service and the rights of citizens.
Jill holds a master of public administration degree from the University of Winnipeg, as well as a bachelor of social work degree and a bachelor of arts degree from the University of Manitoba.